Curriculum
The Ilfracombe Academy offers students a broad and balanced curriculum to support their wide variety of interests and career aspirations. Our range of courses cater for all students, ensuring their time in Sixth Form is both academically challenging and enjoyable. We strive to provide all our students with ample opportunities to celebrate creativity, diversity and independence.
We offer highly successful courses in a wide range of A Level subjects, which support progression to university and have a proud track record of delivering positive outcomes in even the most academic subjects. We also offer an increasing range of more vocational and practical BTEC subjects. These courses are mainly assessed through ongoing coursework and practical assignments rather than just exams.
Both qualification types (A level and BTECs) are stepping stones to higher education, apprenticeships and the world of work.
Study Programmes
The collection of different courses a student takes in the Sixth Form is called a 'Study Programme'. Within a study programme, students are expected to study three subjects though certain students may wish to consider studying a fourth subject. Students can choose a study programme of A Levels only, vocational courses only or a combination of the two. Each subject has four timetabled teaching hours a week as well as two timetabled 'Independent Study' periods.
Programme of study
The Ilfracombe Academy 16-19 Programmes of Study
At Ilfracombe Academy Sixth Form, students who enter the Sixth Form should do so from an informed viewpoint, whether studying academic, applied or technical qualifications. Through a careful selection process involving the open evening, carefully structured applications, and a detailed pathway meeting, students have a study programme shaped around their attainment to date. This is informed by mock results, education and career goals and refined, in light of achieved grades before commencing Post 16 study, during formal enrolment.
The core aim of study programmes is the achievement of substantial academic qualifications in the form of A-levels (with some AS levels available where applicable) and applied and technical qualifications, through BTEC.
Where students gain entry to Sixth Form without English or Maths GCSE graded 9-4, we timetable sessions for them with specialist teachers to complete their qualifications as soon as possible. Resits are offered in November and June exam sessions.
'Life in All it's Fullness' is an important theme at our school and in our Sixth Form, and our students spend 20 minutes each day in planned tutorial sessions; these aim to educate, enthuse and prepare students to become proactive members of their communities. Tutor time is also used effectively to discuss a range of important issues and develop key knowledge and skills. Our pastoral support and personal development education is supported by assemblies, external trips and lectures. Individual meetings with tutors and the Sixth Form team support progression towards the student's next steps in the direction of higher education, apprenticeships and work.
Our Sixth Form study programmes should include work experience and non-qualification activities which complement the other elements of the programme and support the student to progress to further or higher education or to employment. The non-qualification activity should develop students' character, skills, attitudes and confidence. Our Sixth Form students are expected to take part in a number of activities which provide them with the opportunity to develop a range of personal skills, for example participation the National Citizenship Service scheme. Students in Year 12 are expected to actively seek work experience placements by the end of the Summer Term. This is now an expectation rather than being simply encouraged.
All students are expected to take part in Enrichment Activities and Community Service over the course of the academic year – this involves mentoring younger students, offering support in lessons, or assisting in school departments. All students attend a University and Apprenticeship fair in Year 12. A range of speakers and visits are organised to support students in choosing their pathway Post-18, and Next Steps South West are available for further support. Study programmes are focused on progression to a student's next steps of education, whether that is through traineeship, apprenticeship, higher education or other employment. We work closely with local providers and nation-wide establishments, to offer students a comprehensive view on apprenticeships and employment. University visits, outreach visits and careers fair visits completes our programme of information on the next steps.
Level 3 Courses
Nearly all the courses offered in the Sixth Form are level 3 qualifications. These are a step up from GCSEs and a stepping-stone to higher education and university. Level 3 courses include both traditional A levels and more vocational BTEC qualifications. For September 2019, there are 22 Level 3 courses on offer. These can be seen in the two tables below: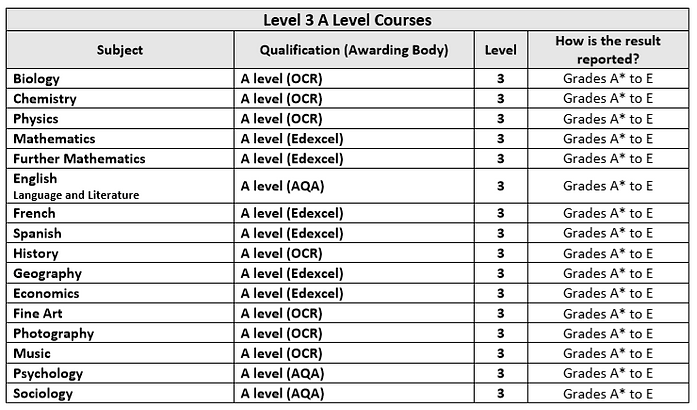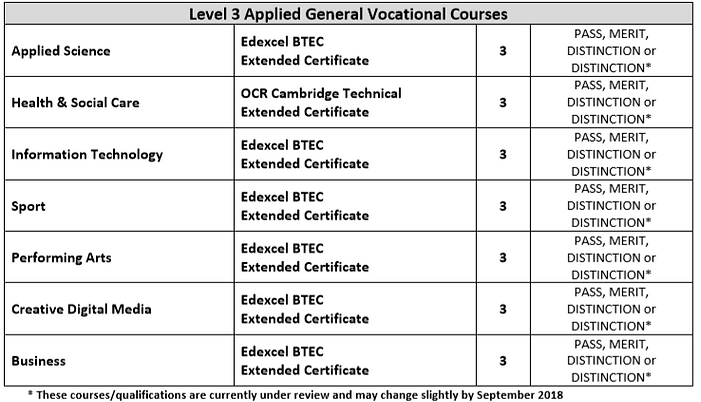 Entry Requirements
To study Level 3 courses you need to have gained a grade 4 (or higher) in at least four subjects at GCSE. You must also obtain a grade 4 (or higher) in either English or Maths. Certain subjects also require additional entry requirements, for example to study a Science subject requires you obtaining a grade 6 or higher at GCSE. For full information about entry requirements please see the prospectus supplement.
English and Maths Resits
Students who have not successfully gained a grade 4 or higher in GCSE English and Maths at the end of Year 11 are required to re-sit the exams in either November 2019 or summer 2020. Retake lessons are timetabled and students are expected to attend all of these lessons as it is a legal requirement. Students will be well supported in their retakes.
Ideally however all students wishing to progress into the Sixth Form will have gained at least a grade 4 so that they can focus on their chosen courses.
UCAS Points